PROTECT ESSENTIAL GEAR PROMO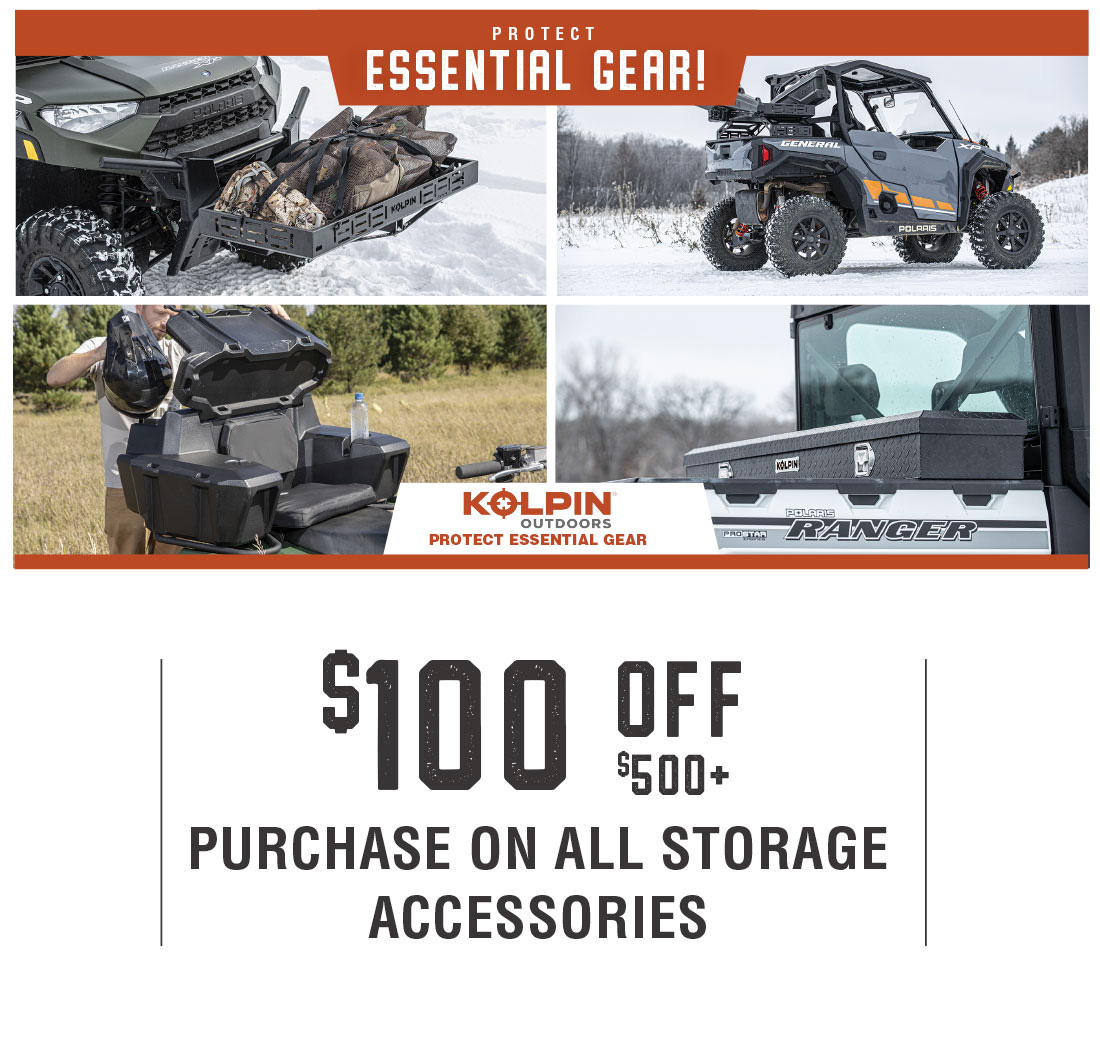 VALID MARCH 1 - APRIL 30, 2022. RESTRICTIONS APPLY.

RESTRICTIONS: OFFER VALID FROM MARCH 1 – APRIL 30, 2022. PURCHASE A QUALIFYING KOLPIN STORAGE AND RECEIVE $100 OFF ANY STORAGE PURCHASE OF $500 AND ABOVE (US OR CANADIAN DOLLAR) OFFER IS VALID IN AUTHORIZED POLARIS DEALERSHIPS, RETAIL STORES, AND ONLINE WITH AUTHORIZED POLARIS DEALER WEBSITES. ONLY (1) COUPON PER CUSTOMER CAN BE SUBMITTED. LIMIT ONE (1) ACCESSORY COUPON PER CUSTOMER. OFFERS MAY ONLY BE COMBINED WITH OTHER "PROTECT ESSENTIAL GEAR" KOLPIN OFFERS.

THIS OFFER IS NOT REDEEMABLE FOR CASH OR GIFT CARDS. POLARIS, POLARIS DEALERS AND THEIR RESPECTIVE EMPLOYEES ARE NOT ELIGIBLE FOR THE DISCOUNT. NOT VALID ON NON-POLARIS PRODUCTS OR QUALIFIED PURCHASES BEFORE MARCH 1 OR AFTER APRIL 30TH, 2022. OFFER SUBJECT TO AVAILABLY WHILE SUPPLIES LAST; IN-STOCK ITEMS ONLY. RETURNS OF ANY PORTION OF THE PURCHASE WILL REQUIRE EQUAL FORFEITURE OF OFFER OR AMOUNT EQUAL TO THE OFFER. APPLICABLE TAX, SHIPPING AND HANDLING DO NOT QUALIFY FOR DISCOUNT. OFFER AVAILABLE ONLY IN THE US AND CANADA AND IS VOID WHERE PROHIBITED BY LAW. BY SUBMITTING THIS COUPON WITH YOUR NAME AND EMAIL, YOU AUTHORIZE AND CONSENT TO POLARIS INDUSTRIES INC., AND ITS AFFILIATES, SUBSIDIARIES AND AUTHORIZED DEALERS CONTACTING YOU VIA PHONE, EMAIL, DIRECT MAIL AND OTHER FORMS OF COMMUNICATION ABOUT POLARIS, ITS PRODUCTS, OFFERS, OR MARKETING MATERIALS.
POLARIS/KOLPIN RECOMMENDS THAT ALL RIDERS TAKE A SAFETY TRAINING COURSE. DO NOT ATTEMPT MANEUVERS BEYOND YOUR CAPABILITY. ALWAYS WEAR A HELMET AND OTHER SAFETY APPAREL. READ, UNDERSTAND AND FOLLOW YOUR OWNER'S MANUAL. NEVER DRINK AND RIDE. ALL TRADEMARKS NOTED HERE ARE OWNED BY POLARIS.
DEALER INSTRUCTIONS: THIS IS A KOLPIN PGA COUPON. FOR REIMBURSEMENT LOG IN TO YOUR POLARIS DEALER WEBSITE THEN GO TO DEALER MANAGEMENT ON THE BLUE TOOL BAR AND CLICK COUPON REDEMPTION TO LOGIN AND PROCEED WITH THE SUBMITTAL PROCESS. SCAN THE ORIGINAL SALES SLIP THAT INDICATES THE DISCOUNT WAS ISSUES AT TIME OF PURCHASE, INCLUDING ALL APPLICABLE PART NUMBERS AND PRODUCT DESCRIPTIONS. DEALER MUST CHECK THE BOX ON WHICH OFFER WAS USED AND HIGHLIGHT CORRESPONDING ITEMS ON THE ORIGINAL SALES SLIP. ALL REDEMPTIONS MUST BE SUBMITTED BY MAY 15TH, 2022. OR EARLIER. INCOMPLETE REDEMPTIONS WILL NOT BE CREDITED, AND CREDIT AMOUNT GIVEN WILL NOT EXCEED AMOUNT GIVE TO THE CUSTOMER. ALL REDEMPTIONS WILL BE CHARGED TO THE DEALER PARTS ACCOUNT.